How to get free credit reports from each of the three credit bureaus
The Fair Credit Reporting Act (FCRA) requires each of the three credit bureaus to provide consumers with one free credit report per year. Federal law also entitles consumers to receive free credit reports if any company has taken adverse action against them. This includes denial of credit, insurance or employment, as well as other reports from collection agencies or judgments. But consumers must request the report within 60 days from the date the adverse action occurred.
In addition, consumers who are on welfare, unemployed people who plan to look for a job within 60 days and victims of identity theft are also entitled to a free credit report from each of the credit bureaus.
Getting free credit reports under the FCRA
The three major credit bureaus have set up a central website and a mailing address where you can order your free annual report.
You may get your free reports at the same time or one at a time - the law allows you to order one free copy of your report from each of the credit bureaus every 12 months.
To get your free reports, visit AnnualCreditReport.com. You can also complete the Annual Credit Report Request Form and mail it to:
Annual Credit Report Request Service
P.O. Box 105281
Atlanta, GA 30348-5281.
Warning about (free credit report) "impostor" websites
Only one website is authorized to fill orders for the free annual credit report you are entitled to under law: AnnualCreditReport.com. Other websites that claim to offer "free credit reports," "free credit scores," or "free credit monitoring" are not part of the legally-mandated free annual credit report program.
In some cases, the "free" product comes with strings attached. For example, some sites sign you up for a supposedly "free" service that converts to one you have to pay for after a trial period. If you don't cancel during the trial period, you may unwittingly agree to let the company start charging fees to your credit card.
Some "impostor" sites use terms like "free report" in their names; others have URLs that purposely misspell Annualcreditreport.com in the hopes that you will mistype the name of the official site. Some of these "imposter" sites direct you to other sites that try to sell you something or collect your personal information.
Annualcreditreport.com and the nationwide credit reporting companies will not send you an email asking for your personal information. If you get an email, see a pop-up ad, or get a phone call from someone claiming to be from Annualcreditreport.com or any of the three nationwide credit reporting companies, do not reply or click on any link in the message. It's probably a scam. Ensure you are on the right website by verifying through the Consumer Financial Protection Bureau (CFPB).
Do free credit reports include FICO® Scores?
The free credit reports provided from Annualcreditreport.com don't include your FICO Scores. If you'd like to know what your FICO Scores are, you can checkout where to get FICO Scores here.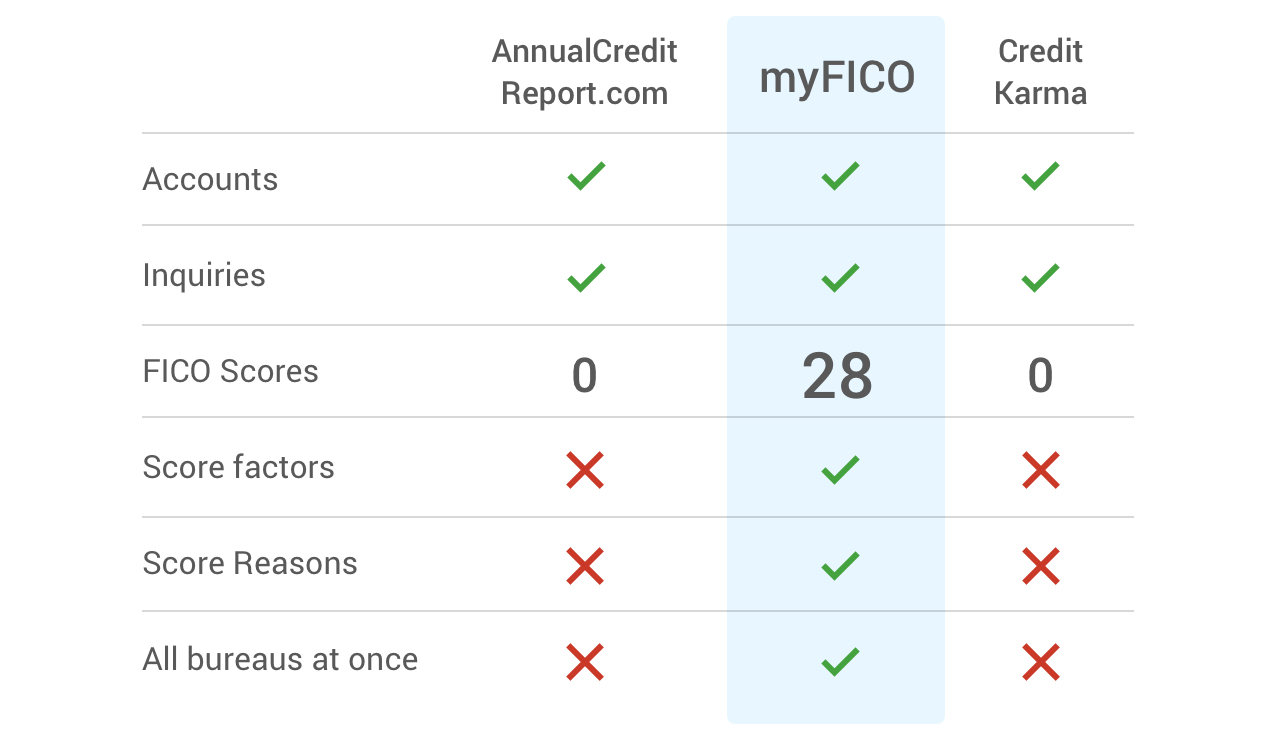 Estimate your FICO Score range
Answer 10 easy questions to get a free estimate of your FICO Score range
Estimate for Free
Instant Access to Your FICO® Score
Get your FICO
Score for free